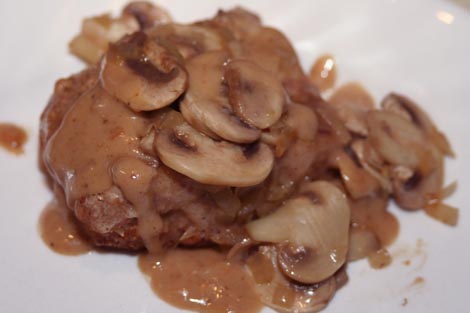 Kate
here again. Here's an inexpensive steak dish that my family enjoys. I'm quite picky about the ground beef recipes I like to eat, and I especially detest little bits of ground beef disguised in casseroles. I make vegetarian lasagna and spaghetti for that reason. (If I want some protein with my spaghetti, I'll prepare chicken cacciatore instead of spaghetti with meat sauce.) I'm happy to say that Poor Man's Steak is one of my favorite ways to eat ground beef. Here's what you'll need to get started: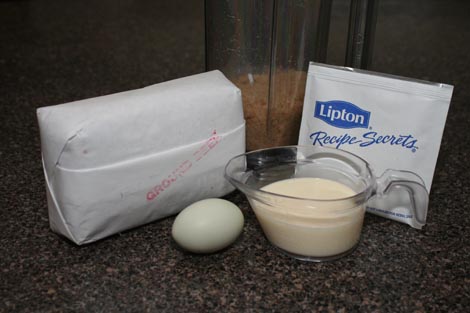 1 pound extra lean ground beef ( I used 1 1/2 pounds)
(Pictured: ground beef from our family ranch
Pleasant Valley Beef
.)
1 1/2 cups whole wheat bread crumbs (Blend 3-4 slices of bread.)
1/2 cup skim milk
1/2 of a 1 1/4-ounce package dry onion soup mix
egg
salt and pepper (optional)--I think I used 1 tsp. salt and 1/4-1/2 tsp. pepper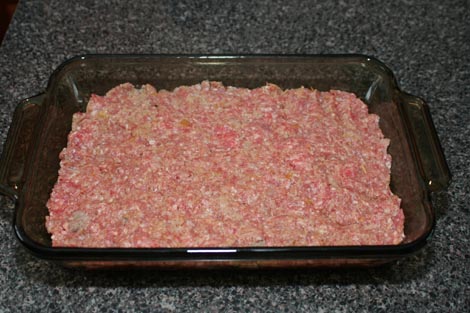 Combine the steak ingredients and mix well. Press into a 7 x 12-inch pan. Cover and chill 30 minutes to 1 hour.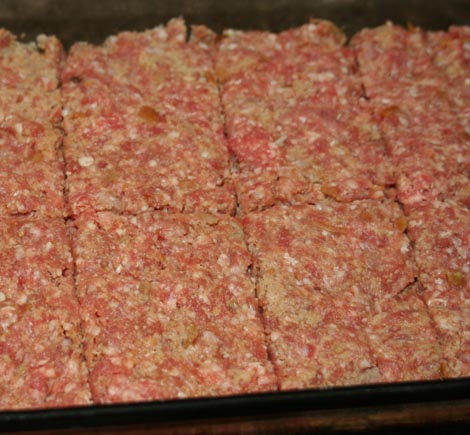 Cut meat into 6 pieces.
Coat each piece with whole wheat flour.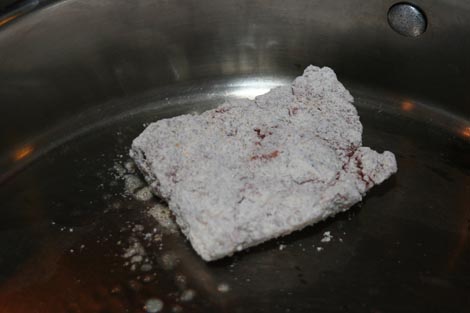 Heat a small amount of oil and brown steaks on both sides.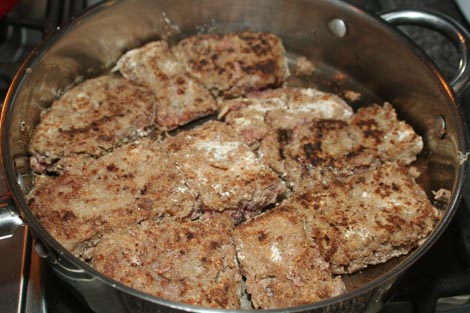 While the steaks finish browning, make the sauce.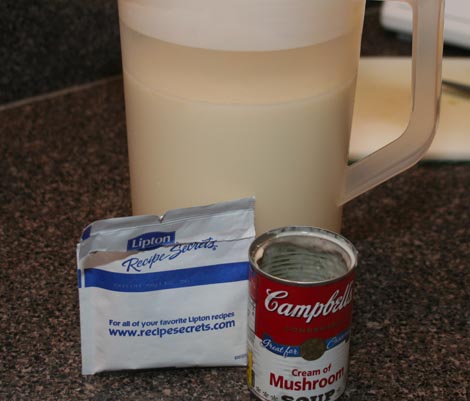 1 103/4-ounce can cream of mushroom soup
1 soup can of milk
1/2 of a 1 1/4-ounce package dry onion soup mix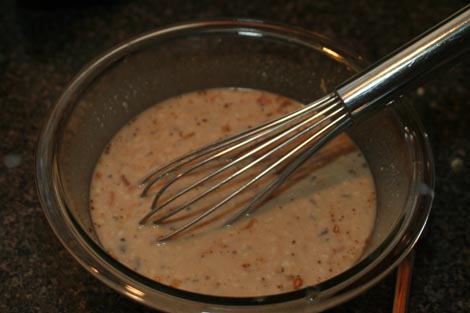 Mix sauce ingredients together.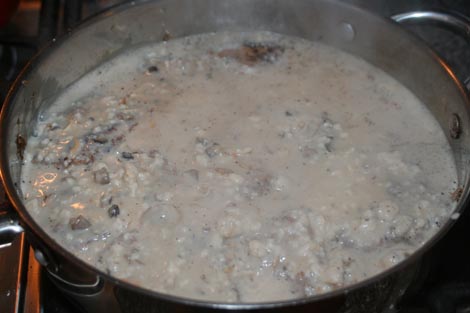 At this point you can transfer the steaks to a 9x13-inch dish and pour sauce over, or dirty one less dish and pour sauce into the browning pan with the browned steaks. I vote one less dish to wash. Cover pan and simmer on stove for about 45 minutes or until steaks are done. If baking in the oven, cover the 9 x 13-inch dish and bake in the oven at 325° for 1 hour.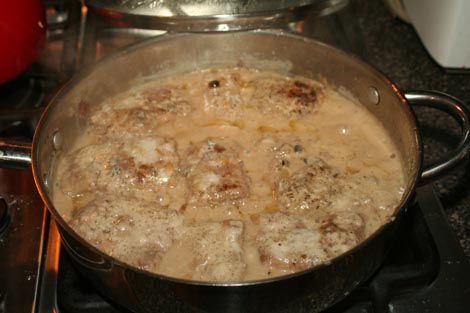 This is what they look like when they've finished simmering. The recipe actually calls for 1 4-ounce can of mushrooms, drained. However, I much prefer to slice some fresh mushrooms, chop a little onion, and saute together in a bit of olive oil. Then top each serving with a spoonful of mushrooms and drizzle some sauce over the top. (The sauce also makes a nice gravy for baked potatoes.)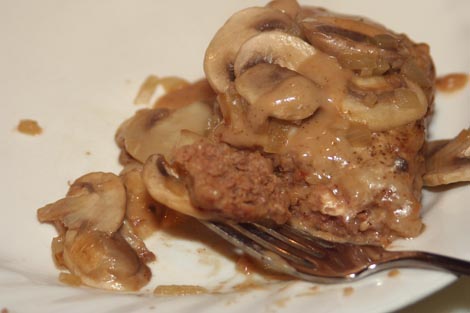 Yum! I hope you enjoy!
Poor Man's Steak
Steaks:
1 pound extra lean ground beef (or 1 1/2 pounds)
1 1/2 cups whole wheat bread crumbs (Blend 3-4 slices of bread.)
1/2 cup skim milk
1/2 of a 1 1/4-ounce package dry onion soup mix
egg
salt and pepper (optional)
Sauce:
1 103/4-ounce can cream of mushroom soup
1 soup can of milk
12/ of a 1 1/4-ounce package dry onion soup mix
1 4-ounce can mushrooms, drained (Or saute fresh, sliced mushrooms and chopped onion in a bit of olive oil and save for topping after cooking.)
Put bread in blender to make fine crumbs. Combine the steak ingredients and mix well. Press into a 7 x 12-inch pan. Cover and chill 30 minutes to 1 hour. Cut meat into 6 pieces. Coat each piece with whole wheat flour. Heat a small amount of oil and brown steaks on both sides. Transfer to 9 x 13-inch baking dish if baking in the oven. To make sauce, mix soup and milk. Add the remaining 1/2 package onion soup mix and mushrooms. Pour over meat and cover. Simmer on stove or bake in a 325° oven for 1 hour. (If you don't have whole wheat bread crumbs and whole wheat flour, use white. It will turn out just fine.)